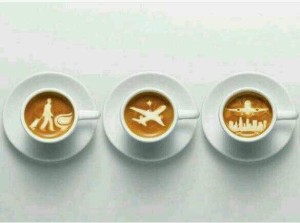 There generally are three questions from the curious:
What exactly is a TravelLatte?
It seems people expect a travel agency, a coffee house, or an odd combination of both.  It's none of these, actually, which is too bad because a travel agency coffee shop sounds like a great idea!  For now, it's a blog site; that's all…and that's probably enough.
Why TravelLatte?
Fair question with several answers, none of which are really good answers. It sounds a bit like "travel a lot" which, of course, we like to do. We also like latte, our preferred espresso beverage. But mostly, it's the idea of discussing travel with friends over a good cup o' joe.  Grab a mug and join us!
What can I expect from TravelLatte?
Another fair question.  We do want to share information and experiences that will be relevant to a broad group of travel enthusiasts so our plan is to have a few general categories:
News & Notes:  It's a big world and something is always happening.  Some of it might actually be worth noting and, when it seems deserving, this is where we'll put it.
Ideas & Itineraries:  Think of them as trip starters to inspire travel, whether it's a mention of some upcoming festival or a whole itinerary with a specific purpose.
Tips & Tricks:  I hate that name – and I promise to find a better one – but this is where you'll find a variety of travel tips.   (Note: I will not start this page until it has a GREAT name.  Like "Jean Luc" or "Giancarlo".)
Blog:  This is where the travel stories, random thoughts and general blogtivities will live.
This is, as they say, an "organic" undertaking, meaning the site will grow and change over time.  We don't want to be "one & done" – you read through some stock material and never come back.  We are not a booking engine or sponsored link farm.  If we receive any benefit from someone/thing we review/mention/suggest, it will be noted.
Plans are great.  Reality, on the other hand, is questionable and plagued by insecurities.  Will any of us be able to figure out how to make the site work like it does in our heads?  Will our audience find us and tune in?  Will we find funding for our new idea of a combination travel agency and coffee house?  Time will tell, my friends.
Until then, grab a cup.  It's a big world out there, so let's get going!
You know what goes great with coffee?
Hold up, we can't get going quite so fast. While we're savoring a delicious cup o' joe, we're reminded that cookies go great with coffee. Or, if you're from foreign lands, perhaps tea and biscuits are more your, uhm, cup of tea. Either way, there are special cookies you can only get on the web, and we use them here at TravelLatte. They help us know who's coming and going, and help us do "work-y" stuff like analytics. You can always turn them off, and you can learn more about them at www.allaboutcookies.org. However, there are no cookie recipes there, much to our dismay.
One more things…
There's another page you should read, about Copyrights, Content Sharing, and Guest Posts.
Speaking of sharing, one thing we don't share is your email address. Or your phone number, picture, birthday, or anything else you might give us. (Note: We don't ask for any of that other stuff, anyway.) However, if you give us your mom's secret recipe for Bulletproof Coffee and/or any cookie recipes, those we just might share.
Okay, we're good. Let's go!
RobRob